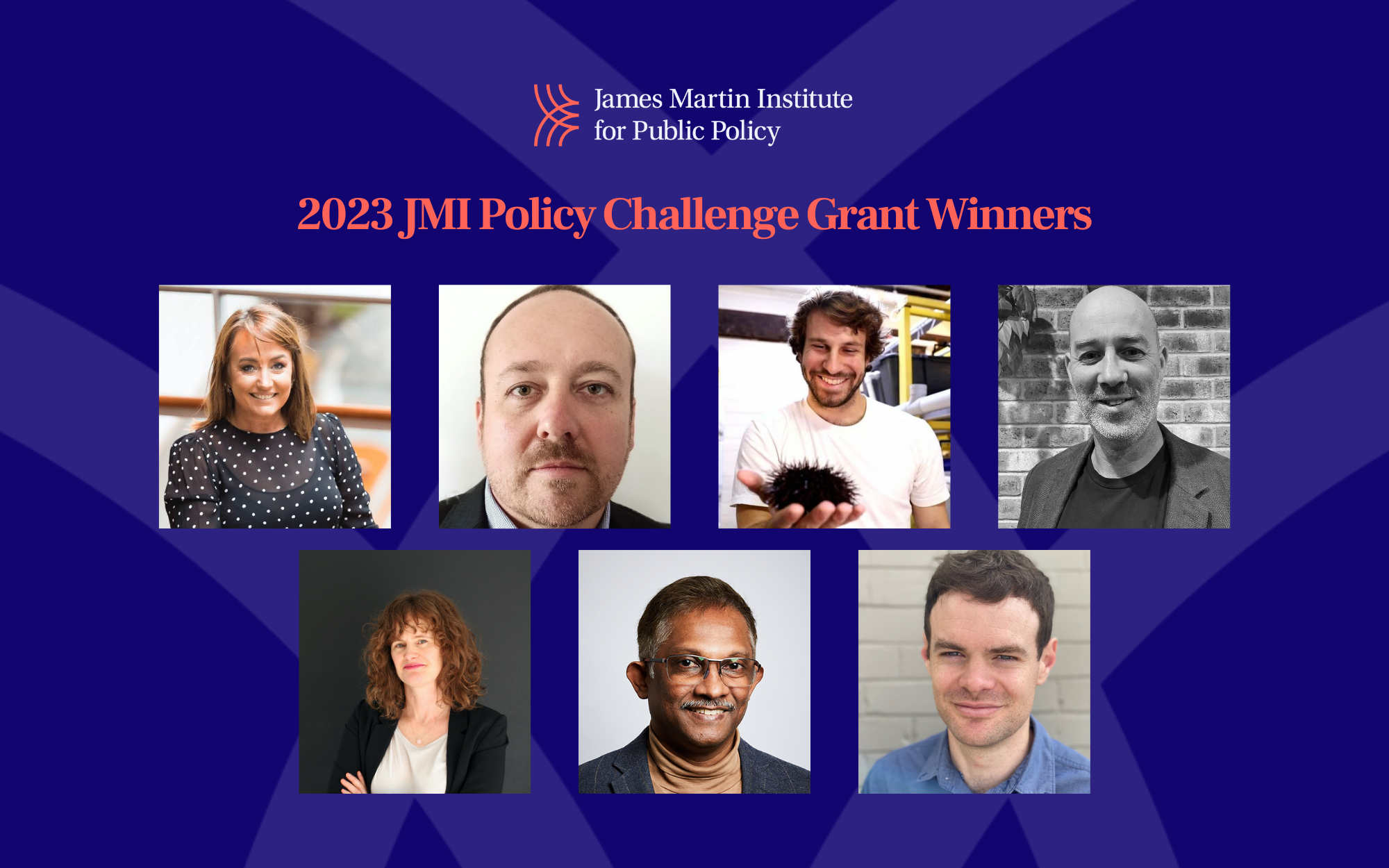 Sydney, Australia –  The James Martin Institute for Public Policy has announced the 2023 winners of its prestigious Policy Challenge Grants. Over half a million dollars will go to the seven winning teams, whose innovative projects are poised to tackle some of the most pressing public policy challenges facing Australia.
JMI's annual grant program recognises policy-focused research with the potential to address critical challenges, foster policy innovation and improve lives. Each recipient will receive funding up to $150,000 as well as dedicated support from JMI to maximise the policy impact of their team's work.
JMI will help to support the research teams to tackle these critical policy challenges and develop practical policy solutions that will foster a more prosperous, equitable, and sustainable future. Over the next two years, the Institute will provide dedicated support to grant recipients to translate their insights for a policy audience and to amplify the impact of their research through targeted engagement with policymakers.
The seven winners cover a range of policy areas and are led by researchers from each of JMI's partner universities. They are:
Economic empowerment of First Nations people in the transition to Net Zero: To identify ways to better support Aboriginal landholders in NSW to actively participate in climate change adaptation and mitigation efforts, and to be more fully included in the transition to a net zero economy. |

Lead researcher: Professor Heidi Norman, University of Technology Sydney

EV-ready apartments: To identify the technical and policy obstacles and solutions to boost the installation of electric vehicle chargers in apartments in NSW. |

Lead researcher: Dr Thomas Longden, Western Sydney University

First Nations voices in habitat restoration: To influence policy to properly incorporate Indigenous voices and insights within coastal habitat restoration projects. |

Lead researcher: Dr Mitchell Gibbs, University of Sydney

Governing AI, education, and equity together: To help policymakers and stakeholders effectively anticipate and respond to the educational opportunities and inequalities of using AI-enabled technologies. |

Lead researcher: Professor Kalervo Gulson, University of Sydney

Harnessing data for inclusive and sustainable mobility: To identify priorities for infrastructure investment and pathways for policy to increase the use of bicycles and make roads safer and more efficient. |

Lead researcher: Associate Professor Amelia Thorpe, University of New South Wales

Leveraging digital technologies to boost productivity in the construction sector: To develop a policy framework for the digitalisation of the NSW construction sector. |

Lead researcher: Professor Srinath Perera, Western Sydney University

STEM education beyond our cities: To re-envision STEM education in regional, rural and remote communities. |

Lead researcher: Dr James Deehan, Charles Sturt University
An awards ceremony to celebrate this year's winners will take place in November 2023 at the State Library of New South Wales, with The Hon. Anoulack Chanthivong MP providing keynote remarks.
The announcement of this year's grant winners coincides with the release of JMI's Annual Impact Report for 2022-23. The report reflects the rapid progress JMI has made in transforming the public policy landscape and supporting evidence-based policymaking, working closely with its government and university partners. The Institute's projects have helped policymakers tackle some of Australia's most complex multidisciplinary challenges, including the governance of artificial intelligence, sustainable finance, the resilience of schools in rural and remote areas, and modern slavery.